This is just the right place for you!
Are you simply looking around or are you specifically looking for a new professional challenge?
Whatever brought you to us, we are pleased that you are here! We do not want to introduce you to our activities here (you are welcome to click through our website to find out more about those). Instead, we would like to provide you with a brief overview of the opportunities that await you at Contargo if you continue your career with us.
Recruiting employees, optimal onboarding, growing together
Our enthusiasm for logistics, modern and environmentally friendly technologies and a future-oriented, sustainable development of our company is what motives our large team of more than 1,200 employees in six countries every day. Besides logistics, our main priority is to provide our employees with continuous support because we can only achieve great things together and experience constant growth if we have a good relationship. At Contargo, we value your specialist knowledge, your experience, your dedication and your ideas – whether you are a career starter, an experienced professional, an ambitious trainee or a student. We believe in personal and collective development. For this reason, we will support you right from the start and provide a good onboarding process so that you can confidently get used to your new tasks.
This is why you should choose a career at Contargo:
Yes, we offer you exciting and varied commercial or industrial job and training opportunities in our large, international network and in a forward-looking sector. But most importantly, the corporate culture that you will find at Contargo is based on strong values such as social sustainability, appreciation, diversity and fairness. Our focus is on your development and your satisfaction.

// Fun fact: employees who have worked for us for 10, 20, 30 or even 40 years are almost a matter of course at Contargo. That speaks in our favour, doesn't it? ;-) //
If you are ready to realise your career ambitions and become part of a passionate, honest and professional team that is at the forefront of the container hinterland logistics sector, then Contargo is the right company for you. Enter a world full of opportunities and challenges – great prospects and a dynamic working environment await you at our company. At Contargo, we tackle large and small challenges together and are always forging ahead with ideas, motivation, innovative solutions and a lot of energy. It goes without saying that we are open and respectful within the team and with customers and partners. Everyone is important, regardless of their age, experience, gender, background or position – we can always learn from one another.
We invite you to get to know us and to start your exciting journey with us. Become part of our team and work with us to shape the future of container logistics!
Have a look at our current vacancies now – we look forward to receiving your application!
#JOINCONTARGO
Onboarding
We ensure that new employees enjoy a smooth start, facilitating their integration into our company.
Learning & Development
We promote and require continuous learning and personal development. To this end, we offer our employees a training catalogue with a range of training and development opportunities that we are constantly adapting and expanding in line with the required skills.
Training the next generation of Contargo employees
We invest in the development of future managers by equipping them with the necessary management tools.
Training catalogue
We offer a wide range of training opportunities.
Benefits
We provide attractive employee benefits, e.g. through corporate benefits, the JobRad bike leasing scheme, the JobTicket, fitness perks, massages, a Health Day and much more.
Topics of the future – New Work
We address the workplace concepts of the future, and have named an "Employer of the Future" as part of the "Arbeitgeber der Zukunft" award scheme. We strive to create a modern and attractive work environment.
Employee survey – every 2 years
We listen to our employees and turn their feedback into concrete measures.
Your contact persons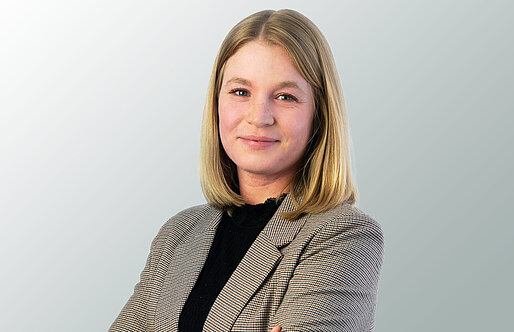 Lorena Kemptner
HR Development Specialist
This might also interest you