Contargo Waterway Logistics BV
Welcome to Contargo Waterway Logistics BV - your experts for reliable, cost-effective, environmentally friendly inland waterway transport!
Contargo Waterway Logistics BV, based in Zwijndrecht, Netherlands, is the central hub for practically all of Contargo's inland waterway activities. Our core business focuses on creating stable connections between the inland terminals along the Rhine and Main and the well-known western sea ports (Antwerp, Rotterdam and Amsterdam). We use established routes and reliable timetables to ensure an end-to-end logistics solution for you.
Our extensive presence at inland terminals in various locations allows us to offer you a wide range of options for optimally positioning your empty containers. We understand the importance of efficient container placement and can offer you tailored solutions for your transport requirements.
Inland waterway transport is more than just a means of transportation: It's a bridge to sustainable, future-oriented logistics solutions. As of 2024, electric barges will be joining the Contargo network!
Services
Contargo's permanent fleet includes 38 barges and 18 push barges, which convey 13,498 TEUs. All along the Rhine, we connect terminals in the ARA ports with the European hinterland. High load capacities, our own fleet and fixed timetables lighten the burden on the road network and on the environment.
Our barges make frequent journeys at a dependable speed. For example, the travel time between the western ports and Basel takes an average of 3.5 days for exports and 5 days for imports; between Rotterdam and Duisburg, we need just 1 day of pure travel time for exports and 1.5 days for imports.
Profile
Efficient and reliable
Cost savings thanks to a dense network and reliable transportation
A wide network
Optimal empty container transport thanks to a wide network of 24 inland terminals
A strong fleet
Frequent journeys thanks to 24/7 barge operation with a modern fleet, partly owned by us
Transbox
Our activities in Benelux are managed by the subsidiary ContargoTransbox, which has branches in Wijnegem, Belgium and Zwijndrecht, Netherlands.
The activities of Contargo Transbox include the connection between the sea port terminals at the main sea ports, between different terminals in the Rotterdam and Antwerp region, and between Rotterdam and Antwerp. In 2022, ContargoTransbox's modern, versatile fleet of 25 barges transported a total volume of 420,000 TEUs.
As part of Contargo Waterway Logistics, Contargo Transbox offers Contargo's usual high service quality. Our subsidiaries also have access to the trimodal Contargo network and its services, allowing them to use other modes of transport for shipments within Europe, for example.
Extremely frequent services
Between the ports of Rotterdam and Antwerp, from and to all important terminals
Fast and flexible
At the Rotterdam and Antwerp sea ports, we offer daily connections between the various terminals.
A fixed timetable
Connecting the ports of Moerdijk, Dordrecht, Vlissingen, Gent, Terneuzen, Deurne and Wielsbeke with the ports of Rotterdam and Antwerp
Sustainability
Our aim is to move as many shipments as possible from the roads to other modes of transport. Our dense network of our own terminals allows us to travel the perfect distance by barge when splitting shipments over different modes of transport. This benefits our customers, who enjoy a reduction in costs, as well as the environment, since CO2 emissions per tonne kilometre decrease when barges are used.
And every single day, trucks travelling on German roads cause economic damage of around 200 million euros. 13 million working hours are lost each day due to traffic jams, and 33 million litres of diesel is used up. Transport by barge easily wins when it comes to environmental balance, and waterways are not prone to traffic jams or Sunday travel bans.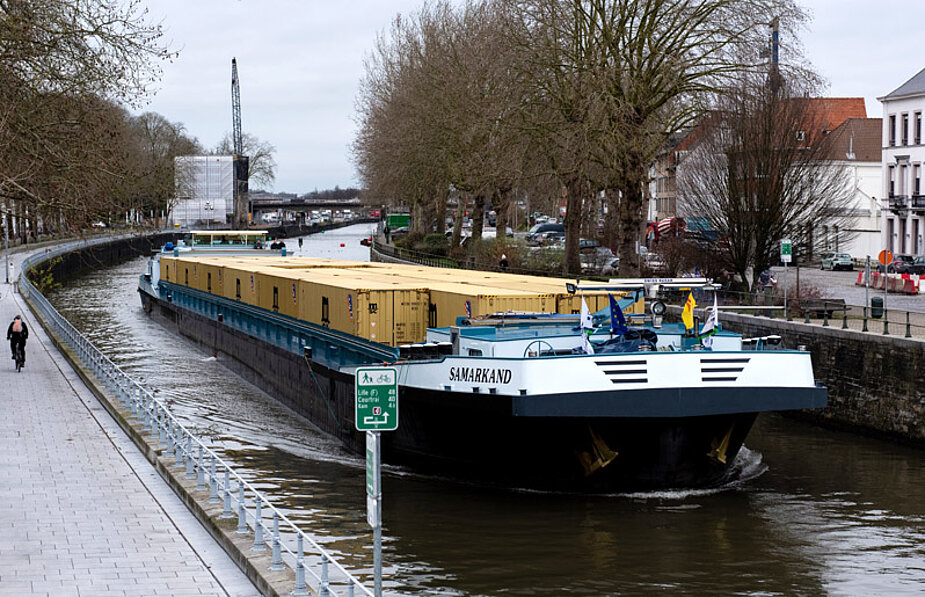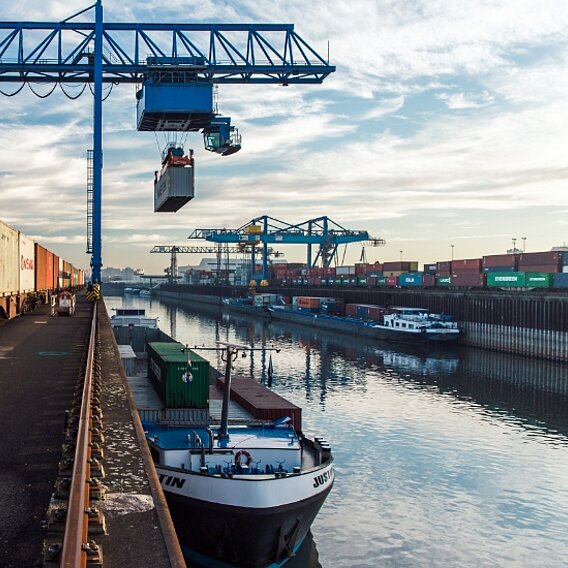 You might also be interested in