Welcome to Contargo Road Logistics – a reliable partner for truck transport!
Our port-to-door service – directtrucking – lets you concentrate on your core business whilst we make sure that your containers arrive efficiently at their precise destination. Contargo Road Logistics provides you with a reliable partner who can deliver your containers on a just-in-time basis throughout the European hinterland.
We've been established at the western ports for a long time, serving all major sea ports in Belgium, the Netherlands and northern France including Amsterdam, Rotterdam, Antwerp, Zeebrugge and Le Havre. Our fleet is versatile and adapts to meet your requirements.
Our services also serve Wilhelmshaven, Bremerhaven, Bremen, Cuxhaven, Hamburg, Lübeck, Kiel and Rostock. The Mediterranean ports of Koper (Slovenia) and Triest (Italy) are also included in our extensive Contargo network.
Our Contargo Road Logistics drivers are officially certified according to Good Distribution Practice (GDP) standards, so we are ready to safely transport medicines from point A to point B for you.
The mix of commitment to punctual deliveries, environmentally friendly solutions and flexible transport options makes us the perfect partner for your logistics requirements.
Electric trucks + our terminal network: An unbeatable duo
In total, our CONTARGO fleet of 32 electric trucks travels 1,560,000 km each year. In addition, we use green railroads for the main leg of our container transports. Our dense network of mainly trimodal container terminals and electric trucks along the Rhine provides many different options and combinations for your transports.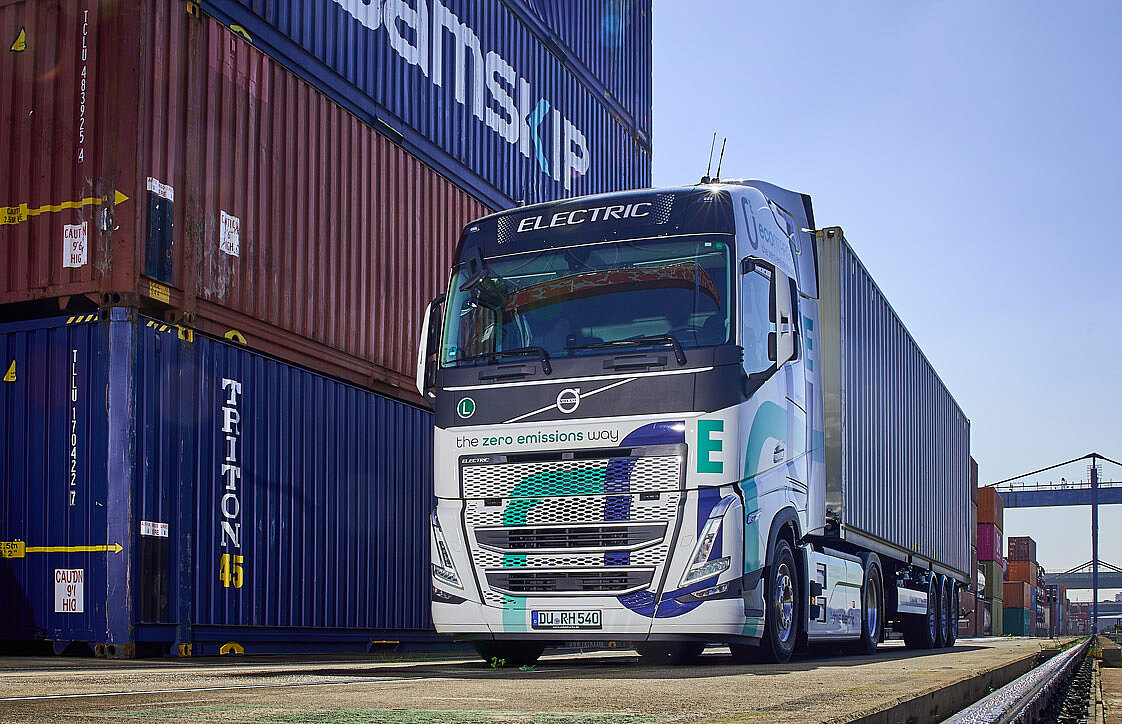 Service – Terminal Trucking
Our fleet of trucks for intermodal transport.
Flexible transport right to the door
With Contargo's full single-source service, we offer safe and punctual container transport between inland areas and sea ports. Our road vehicles flexibly and quickly transport your goods over the first/last mile to their destination. Our versatile fleets are prepared for practically any type of container at all of our terminals. We have:
Multi-chassis – 40ft und 45ft, also for 20ft containers
Special tank container chassis
Chassis with gensets for temperature-controlled goods
Vehicles with ADR equipment
For heavy containers, intermodal transport has significant advantages: Since 44 tonnes of total weight are allowed within 150 km of a container terminal, 10% more weight than is usually allowed can be transported by road. We also offer lightweight chassis for even heavier loads. Our intermodal transport vehicles enjoy certain exemptions from Sunday, bank holiday and public holiday transport bans.
Both the initial and final legs take place on a just-in-time basis – short distances between your loading ramps and our terminals ensure top flexibility. If time for loading and unloading is short, you can use our container shuttle services to minimise waiting time costs. Contargo Road Logistics offers tarpaulin trailers and refrigerated trucks for full and partial lots.
We can provide the following transport services:
One-way and round-trip trucking
Reefer transportation
ADR
CAT III
Transportation with waste transport signs
GMP
What we offer
More than 80 trucks in Hamburg, more than 180 in the Netherlands, and more than 35 in Antwerp – a tailored fleet of trucks to meet your environmental and economic needs
Fast and flexible for the last mile
Flexible and just-in-time – daily direct trucks between the sea ports and the European hinterland
Service from a single source – a Europe-wide port-to-door service, FCL, LCL, heavy cargo and more
Contargo Berry B.V. and Contargo HE ensure the smooth transport of goods within Belgium and the Netherlands.
We're there for you: With fast and flexible trucking
A better way to get your goods where you want them: Flexible transport over the last mile, using electric trucks only!
Service from a single source: Our services include comprehensive local transport solutions including initial and final legs as well as specialised transshipments.
You have the containers and we have the solution: Our directtrucking core business is characterised by flexibility and tailored solutions. With our connection via Hamburg, we efficiently serve the northern ports of Wilhelmshaven, Bremerhaven and Rotterdam.
Kontakt
Zwijndrecht
Contargo Road Logistics Zwijndrecht
Warehousing / Road Logistics
Hamburg
Contargo Road Logistics Hamburg
Büro:
Indiastraße 1
20457 Hamburg
You might also be interested in